Recipes
Roast Smokehouse Chicken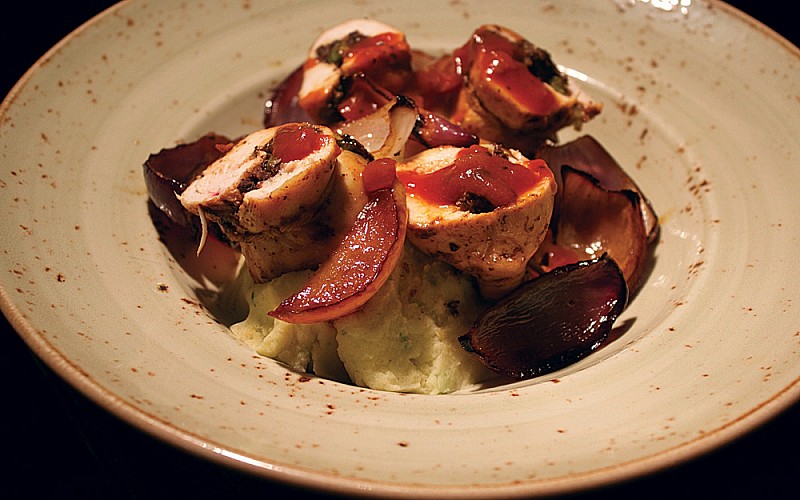 An easy to prepare recipe with delicious flavour.
You will need:
4 chicken breasts (butterflied)
1 Rosscarbery Black Pudding (finely chopped)
1 bunch scallions (finely chopped)
2 red onions (quartered)
1 kg potatoes (peeled)
2 cloves garlic (finely chopped)
1 jar Elbow Lane Smokehouse Sauce
1 apple (cut into wedges)
3 tbsp balsamic vinegar
1 tbsp brown sugar
150 g butter
300 ml milk
Method:
For the chicken:
Spread black pudding – we use Rosscarbery Traditional Black Pudding – scallions and Elbow Lane Smokehouse Sauce across each breast. Roll into a cylinder and tie with kitchen string. Season. Roast at 200°C for 25mins.
For the champ:
Boil potatoes for 25 mins. Melt butter in milk in pan. Drain & mash potatoes. Fold-in milk & butter mixture. Add garlic and scallions. Season.
For the onions:
Place in roasting tray and toss with oil, balsamic vinegar, salt and pepper. Roast at 200°C for 15 mins.
For caramelised apples:
Place in pan on high heat with sugar and 3 cups of water. Allow water to evaporate and apples to soften and turn golden (about 10 mins).
Slather with Elbow Lane Smokehouse Sauce and enjoy!
Chicken and Rocket Sandwiches with Smokehouse Sauce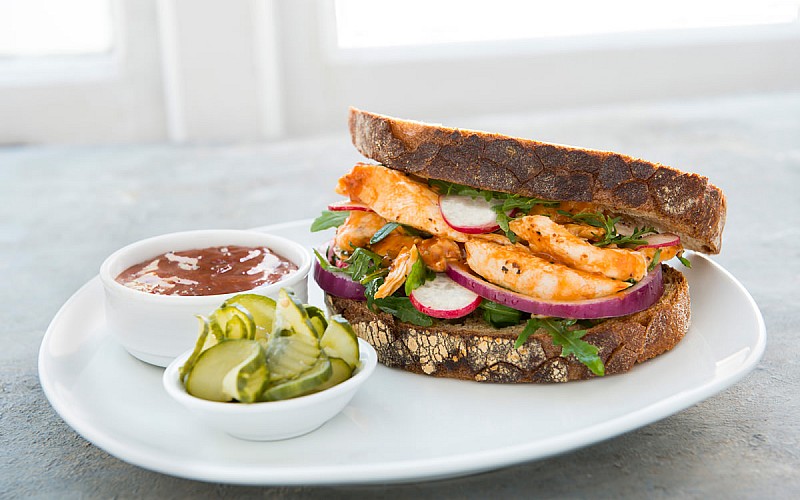 This recipe is one that we love using at the weekend, after a busy morning or just after the kids have come back from training.
You will need:
1 × jar Elbow Lane Smokehouse Sauce
2 × chicken breasts
1 × loaf crusty bread
6 × radish
1 × packet rocket
1 × red onion
1 × jar of pickled cucumber
Method:
Heat your frying pan, then add a dessert spoon of sunflower oil. Slice the chicken breasts and fry in the pan until cooked through. Set aside.
Thinly slice the red onion and radishes, then wash and roughly chop the rocket.
Toss the chicken in 2 dessert spoons of Smokehouse Sauce and build your sandwich using the ingredients above and some of the pickled cucumber.
We serve it with some more sauce on the side, some extra pickled cucumbers, some carrot sticks and a whole lot of veneration. ENJOY.
Recipes playlist
"How can I get my hands on a jar? … Now?!"
Good question – with a sauce this delicious, you don't want to wait around.
As well as being on sale from our restaurant Elbow Lane Brew and Smokehouse (where it's freshly made and enjoyed nightly in many of our dishes). Smokehouse Sauce is on sale at the stores listed on the Stockists page.
Share this page: